Bonnefooi means « by chance » in the Brussels' dialect. A place where you can randomly discover new music and people from all over the world. Located in the heart of Brussels, Bonnefooi is all about music. FREE concerts and DJs almost every day, until late at night… And with "late at night" we mean 4 AM on weekdays and 8 AM on weekends 🙂
Over the last years, Bonnefooi has established itself as one of the place to be (and to party!) in Brussels, thanks to its eclectic and alternative music programme, its insane Void Acoustics soundsystem and its really crazy vibes. Besides hosting weekly amazing local artists, some real legends have performed here, such as Charanijt Singh or Daniele Baldelli.
Come enjoy the magic of this city... Bonnefooi is Brussels!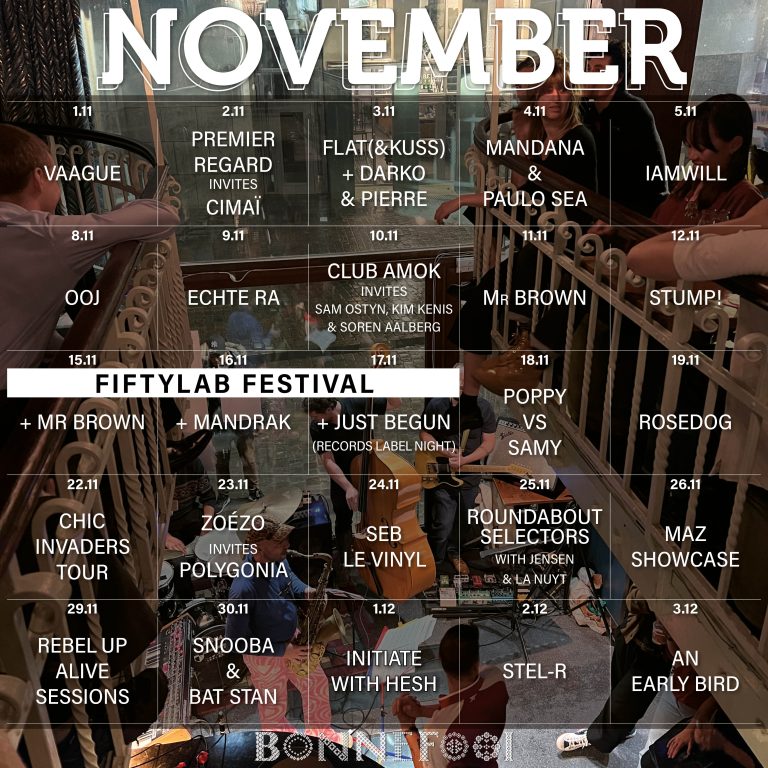 We are looking for bartenders to strengthen our team !
Do you like working at night ? Are you flexible and responsible ? Do you want to join a dynamic team ?
Do you like working while listening to music ?
Do not hesitate and send us your CV to info@bonnefooi.com
Rue des Pierres 8
1000 Brussels
MIXCLOUD  https://www.mixcloud.com/Bonnefooi_Brussels/
Monday and Tuesday CLOSED

Wednesday and Sunday 20:00 – 4:00

Thursday, Friday and Saturday 20:00 – 8:00
Find us on KAYAK.

Le gardiennage est effectué par 3iSecurity SRL (n° d'autorisation 16.0288.03) qui est assuré contre les dommages corporels ou matériels causés par les agents de gardiennage. les victimes peuvent s'adresser directement à:
AXA BELGIUM | 1 place du Trône | 1000 Bruxelles | N° de police: 720233256